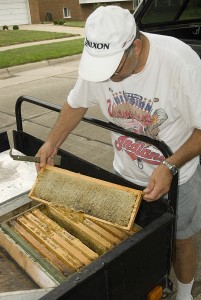 I took Beekeeping Classes 9 years ago and started to raise bees (2) hives to pollinate my garden. I use to get 12-24 cucumbers now I get bushels from the same amount plants. I started with 2 hives and now have between 150 & 200. About 75 of the hives are used for pollination and are move a couple times per season. I have 75+ hives in the Canton area, some in Northville, Livonia, Ann Arbor and 75 hives in Manchester and Adrian.
I have been doing Bee Classes for the last 5 years I call it "Bee Boot Camp".
What Bob "the bee guy" can do for you
BOBILIN HONEY provides pollination services through strong, managed honeybee colonies. Based in Canton, Michigan, we offer our services to small growers and back yard gardeners.
Honeybee pollination plays an important role in maintaining sustainable, profitable agriculture with minimized disruptions to the environment.
Why you should host a honeybee colony
Honeybees are efficient pollinators, and since they are also easily handled and transported, can be a very cost-effective way to dramatically increase crop yield. Misshapen fruit, low yield, and off-grade production are often the result of flowers that fail to set fruit. Our pollination business is as scalable as your operation requires. We can supply two hives, or two hundred.
How you can get involved
To arrange placement of our pollinator colonies for your crops, orchards and gardens contact Bob Jastrzebski (certified beekeepeer) at (734)748-2185. BOBILIN HONEY can travel anywhere in the Southeast Michigan.